Frequently Asked Questions
MySchool@Kent is a real, local school with genuine credits and a local diploma, but designed for you, by you. The school is student-centered and teacher driven and features online instruction with extensive support from academic coaches as well as instructors. It's flexible, rigorous and personalized, so you can learn at your own pace. But you're not left alone. You'll have lots of support and help when you need it.
HOW IS THIS DIFFERENT FROM A TRADITIONAL SCHOOL?
MySchool@Kent is a combination of interesting, online learning, with the best part of school - caring relationships. New ways of learning include online instruction and coursework, along with a laptop/wireless card for learning anywhere. Plus, you'll experience just-in-time learning in our face-to-face (F2F) learning labs in a comfortable, café-style environment.
And the relationships? Our experienced Blended Learning Instructors assist students on-campus, F2F and online. These caring adults - all Michigan certified teachers - will get to know you and help you succeed in this new hybrid school. In addition, our F2F Success Coaches provide the kind of support you need, when you need it. They are available every day to help students discover what works best for them.
This approach allows students to work at their own pace (both fast and slow) and arrange classes around any schedule, so you can learn when and where you choose - wherever a laptop goes. This means you can also take college classes, volunteer, hold a job, help with family responsibilities, take more courses in your interest areas, and fit your goals and dreams into a high school schedule.
WHY ONLINE LEARNING AND IS IT RIGHT FOR MY STUDENT?
Online learning is new to many students and Michigan Virtual University has produced a parent guide to help answer these questions. Read the Parent Guide to Online Learning for more information.
IS THIS SCHOOL FOR ME OR MY STUDENT?
It might be. We hope so. Please consider these features:
MySchool@Kent offers a new way to learn, with a proven combination of face-to-face learning, engaging online projects and activities to complete, and career exploration options, all in a flexible schedule.
Because most of the class work and requirements are completed online, this program offers maximum flexibility. You can learn when you want to each day. This flexibility means you can personalize high school helping you work around other electives, and activities, college courses, family responsibilities, and jobs.
Our experienced Personal Online Instructors join our on-campus F2F Instructors and online Success Coaches to provide the kind of support you need when you need it. These caring adults are Michigan certified teachers who will get to know you and help you succeed in this new hybrid school.
Students work at their own pace. This might mean faster in some classes, slower in others, but it's up to you. You're in control. All assigned classes must be completed within the semester/trimester in which they are enrolled.
Career and Business connections are just outside the door of our Learning Lab at the Tech Center, with 20+ programs representing hundreds of careers, internships, job shadows, and free college credit.
OUR STUDENT SUPPORT SYSTEM
ARE THERE TEACHERS AT MYSCHOOL@KENT?
Yes - lots of them! And while they are highly-qualified, Michigan certified teachers, they won't be teaching in the usual sense and your relationship with them will be different. They will help facilitate your learning with the online instruction you access from the laptop. They will assist you with homework questions, brainstorm with you about projects and help you get ready for assessments. Plus, if you run into an obstacle you just don't know how to get around, they will work with you to make sure you don't get stuck.
BLENDED LEARNING INSTRUCTORS
Highly-qualified and Michigan certified
Looking at the whole student and his/her total learning experience throughout the class
Help with additional explanation, tutoring, and assistance with homework and projects
Each content area teacher is available during the school day F2F twice weekly* in each location
Available during the school day online and after school hours
Grades and tracks student work
Offers support, feedback and monitors progress
SUCCESS COACHES
Tracks/monitors student work to make sure the student progresses through class on pace
Coordinates efforts with Blended Learning Instructors
Will provide referrals, make calls, help eliminate all barriers to progress
Helps with homework and offers feedback
Communicates with parents/guardians weekly
IMPORTANT DETAILS: WHERE, HOW AND HOW MUCH?
IS MYSCHOOL@KENT CONNECTED TO A LOCAL HIGH SCHOOL?
Yes and no. Students are not required to participate in the local high school, but there are some exciting options there, like specialized electives, music, clubs, sports, and other activities, that students may want to experience. Because of our connections to our districts, these options are available. The local high schools that refer their students also grant credits and diplomas.
HOW MUCH DOES MYSCHOOL@KENT COST?
$0. There is no charge for this public program. Funding comes from Kent ISD and contributions from the local school districts. Both costs and contributions depend on the number of students participating, with a portion of the state's per-pupil grant helping to support each participating student.
WHERE IS THE FACE-TO-FACE PART OF THE PROGRAM LOCATED?
Twice a week (minimum during a normal school year) , students come to our Learning Lab on the campus of Kent ISD, located just off the East Beltline between Knapp and Leonard streets. The program features a café-style environment just inside the Kent Career Tech Center, in the KIH wing (parking lot #3). For those students who need an alternative ("SuccessLink") to the main campus location, we will have a separate satellite location in the county. These SuccessLink classroom locations will be announced when opening.
WHO OVERSEES THIS PROGRAM?
As a part of Kent ISD, MySchool@Kent is organized by our administrators, operated by our staff and governed by the Kent ISD School Board. The original vision and planning for the new school came from the Superintendents of our local districts through their Secondary Re-design Committee. Gerry Verwey is the Principal of the program.
DOES THIS SCHOOL FOLLOW THE TRADITIONAL SCHOOL CALENDAR?
Yes, MySchool@Kent follows the typical Kent ISD/KCTC calendar, although students can start or finish classes at any time during the school year.
DO STUDENTS HAVE TO BE CURRENTLY ENROLLED IN HIGH SCHOOL?
Yes. The high school counselor at the sending school refers the student to MySchool@Kent through oe.kentisd.org .
DOES THE SCHOOL ACCEPT MIDDLE SCHOOL STUDENTS?
Yes, in 2016 MySchool began to offer programming for MS students needing alternatives to traditional school schedules and environments.
HOW OFTEN DO MYSCHOOL@KENT STUDENTS REPORT TO CAMPUS?
Students attend for at least 2 hours, 15 minutes on their dates of attendance. High school students are required to be in attendance on campus any two days of the week during a normal school year. Middle school students should confirm their scheduled dates when meeting with our staff during on-boarding.
WHERE IS THE CAMPUS?
The main campus for high school and middle school students is located inside of the KCTC campus at 1655 E. Beltline Ave., Grand Rapids MI 49525. The campus is open from 6:55am - 2:15pm Monday - Friday on regularly scheduled school days.
For students who are approved for attending a satellite, the location options will be announced when opened.
IS TRANSPORTATION TO THE PHYSICAL LOCATION PROVIDED?
Most students will find their own transportation, including The Rapid bus line. Some students may be able to share existing district transportation schedules to our campus. You will be able to work with your sending school to arrange district transportation.
DOES THE SCHOOL ACCEPT STUDENTS FROM EVERY YEAR OF HIGH SCHOOL?
Yes, any student in grades 9-12 and age 19 or younger. We also accept middle school students.
DO MYSCHOOL@KENT STUDENTS STILL TAKE STATE TESTING?
Yes. The state of Michigan requires all public school students to participate in the MStep, SAT, and ACT Workkeys tests. The sending school will have schedules for each grade. Students will report to test to their sending school at the specified time.
WHERE IS THE CURRICULUM FROM?
Multiple content sources provide a wide variety of high-quality online courses to meet the needs of students in grades 6-12. The courses we've selected offer students top-quality content, engaging instruction and effective design, all from trusted resources.
Apex is the Learning Management System for coursework.
All of our classes have been reviewed by Kent ISD staff and core classes are aligned to Michigan Merit Curriculum and State Standards. This process provides students with up-to-date, relevant education to help them earn a local diploma and qualify for careers or post-secondary study.
Assessments and tests are selected in a similar way. Students will have both formative and summative assessments and multiple ways to demonstrate concept/standard mastery. Only the concepts students miss will require additional work. You won't spend time on what you already know.
WHAT KINDS OF CLASSES ARE AVAILABLE?
We offer approximately 75 different classes, with additional classes added each semester. You will find all the core courses needed for graduation - English, Math, Social Studies and Science - and some with multiple options. We also offer a variety of elective courses that will enrich your understanding of core concepts, help you pursue your interests and meet additional state requirements.
HOW DO I LEARN TO NAVIGATE THIS NEW ONLINE CLASSROOM?
All students participate in a required Orientation, which is a little like a driving lesson. You learn where things are in the learning system, how to communicate with your teachers, program expectations, and how to turn in your projects and other schoolwork.
HOW DO STUDENTS ENROLL?
MySchool@Kent is a service provided by Kent ISD. Students that are residents of the 20 local districts that are members of Kent ISD are eligible for the services provided by MySchool@Kent.
If you'd like to explore the options available from this program, meet with your student's current high school counselor (in your district of residence) and ask the counselor to assist you.
Steps to enter the program:
Enroll at a local Kent ISD public high school
Get a referral from your high school counselor to MySchool. That counselor will enroll your student with MySchool@Kent
Make and attend an intake appointment with MySchool
Make sure your student attends orientation and starts learning
CAN STUDENTS BE ENROLLED AT ANY TIME THROUGHOUT THE YEAR?
Yes, students can get started earning credit anytime during the school year.
WHAT IF I DON'T HAVE A COMPUTER AT HOME?
Many local schools have a 1-1 program and will provide a laptop for your student. If your local school doesn't provide a laptop, MySchool@Kent can provide a Chromebook for each student to use while in the program.
WHAT ABOUT INTERNET ACCESS AT HOME?
MySchool@Kent can help with web access too. Students without high-speed access will be loaned a broadband wireless card (MiFi) to be used to complete their coursework.
WHAT HAPPENS IF A STUDENT HAS A PROBLEM ACCESSING PROGRAMS OR WITH THE LAPTOP?
MySchool@Kent provides local technical support with our own Kent ISD computer techs. They can help diagnose and fix almost any computer or connection problems. They can even fix a broken laptop.
High School - Personalized
MySchool@Kent combines new ways of learning, with the best part of school - the caring relationships. We take instruction and coursework online with a laptop/wireless card for learning anywhere. Plus, you'll experience just-in-time learning, tutoring, and group discussions in our café-style face-to-face learning labs.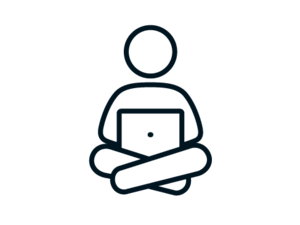 Flexible
Take courses at the time of day you prefer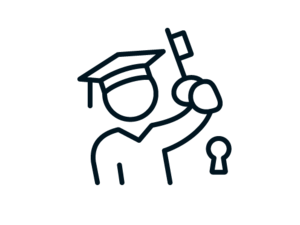 Personal
Complete high school with us or take just the classes you need to graduate a la carte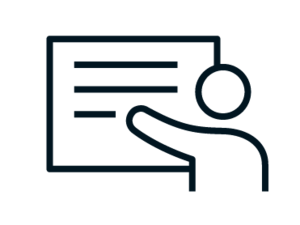 On Site Support
Our Personal Online and on-campus Instructors and Success Coaches provide the support you need when you need it